2022 Drive Aloha PSA Video Contest Entry
DTRIC Insurance has launched its first ever Drive Aloha Video contest for high school students from across the state to put their videomaking skills to work for a chance to win a grand prize of $2,500 for their school's multimedia department. Students are invited to create a video up to 60 seconds to that creatively answers the question, "How do you Drive Aloha?"
Now through November 18, 2022, public and private high school students from across the state are invited to submit their videos online at https://www.dtric.com/DriveAlohaPSA2022/. All approved videos will be uploaded to the contest YouTube channel, https://www.youtube.com/channel/UCTnsx3c1GonNIOS_CNaee6w/ for public voting from November 19 through 25, 2022. The top 10 videos earning the highest number of votes will be selected as finalists. A panel of judges consisting of local personalities and DTRIC executives will select the top two winners. First place will receive $2,500 for their school's multimedia departments and the second place winner will receive $1,000 for the department.
Submissions can be made from individuals or schools, and all participants must be enrolled in a Hawaii public or private high school. Submissions must fulfill the following requirements:  1) video must be 60 seconds or less; 2) work submitted is the entrant's original, previously unpublished work that does not infringe upon the rights of any third party; and 3) the submission must include the school name, creator's name (first initial, last name of up to 5 people), video title, and the Drive Aloha logo on the "lower third" of the video itself.
Download the Drive Aloha Logo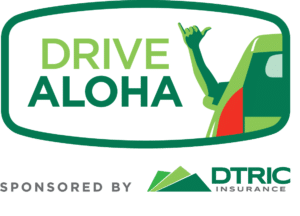 Submit Your Video!