This month marks the one-year anniversary of the floods that damaged nearly 200 homes on Kauai and in East Oahu, resulting in millions of dollars in property damage.
This is a sobering reminder of the damage that flooding can cause, even in areas that are not typically prone to flooding.
So, what should you know and do to protect your home?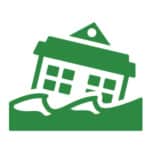 Flood insurance coverage
Be aware that your homeowners and renters insurance do not cover damage from flooding. To protect your home, be sure to understand the risk of flooding and what your insurance options are. If your home is near a stream or in a flood zone, you should consider flood insurance to protect yourself.
What to do before flooding takes place:
Keep inventory of your personal possessions, backed up with photos and/or video. This will assist in filing an insurance claim in the aftermath of flood or storm damage.
Keep the documentation in a waterproof container stored as high as possible and away from rising water. You should also put a backup copy on an electronic file, or in a safe deposit box or other secure remote location.
What preventative measures you can do around the house:
Move expensive items to a safer location, such as a higher level in your home and purchase a battery-powered sump pump to quickly pump water out of your home.
Keep your roof gutters clean and inspect your downspouts to make sure they drain properly. Make sure the water is directed well away from your house foundation to prevent erosion or ponding.
What to do after the flooding:
Document any property damage for your insurer by taking photos or video before making any repairs. Digital photos taken with your smartphone can be stored electronically and easily copied and transferred.
Take these proactive measures to protect your home and possessions before a storm hits!
GET A HOMEOWNERS QUOTE
Our knowledgeable Customer Care representatives can assist you with a free, no-obligation home quote – just call 92-DTRIC (923-8742) or 1-877-923-8742 (Neighbor Islands toll free) to get started. For faster service, be sure to have your current insurance policy handy.