DTRIC Celebrates Drive Aloha Champions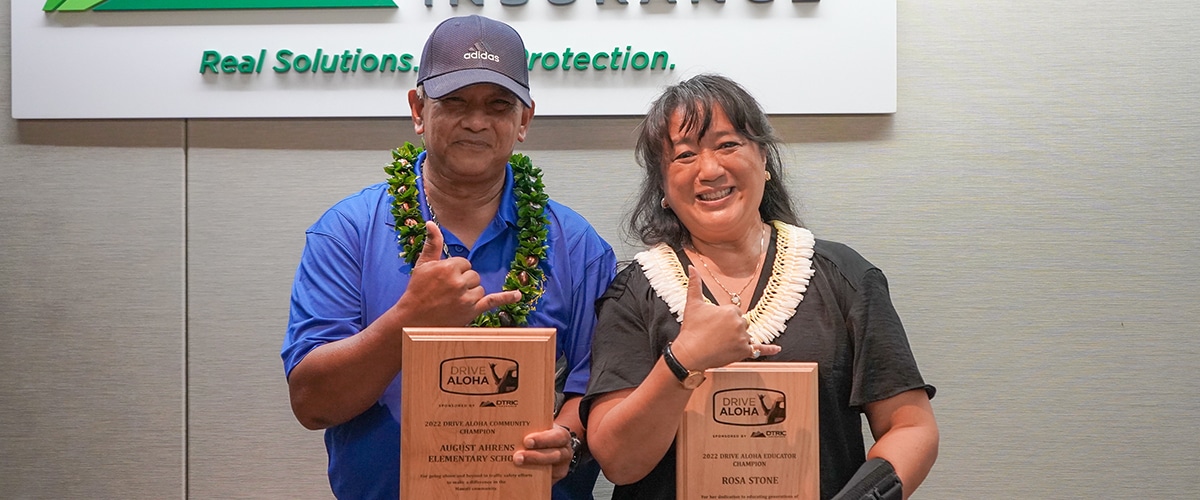 In recognition of the community's efforts to keep Hawaii's roadways safe and friendly for all users, DTRIC Insurance recognized the recipients of its second annual Drive Aloha Champions awards in October.
Launched in 2021 as part of the fifth anniversary of the DTRIC's Drive Aloha initiative, Drive Aloha Champions celebrates individuals, businesses, and organizations for their efforts to promote responsible and courteous driving and encourage positive traffic behaviors.
Drive Aloha Champions were awarded to:
Community Champion – August Ahrens Elementary School
As the largest elementary school in Hawaii with nearly 1,300 students, this school has taken several major steps to keep their student safe while walking to and from campus. To combat near misses with cars as students are dropped off or picked up from campus, school officials worked with the city to restrict parking in front of the school during school hours. Other traffic enhancements include adding a designated lane along Mahoe Street for school-related traffic only, and a right-turn only rule for motorists exiting the school. While the safety improvements were a team effort by the school, much credit goes to the leadership of Byron Montibon, head of school security and the school's Junior Police Officer (JPO) team, and other school administration officials for these cost-effective safety measures.
Educator Champion – Rosa Stone, Lihikai Elementary School 
As Lihikai Elementary School's Junior Police Officer (JPO) advisor for more than 16 years, Stone oversees the school's squad and has been instrumental in protecting the keiki that commute to and from campus. Due to crashes and near-misses in front of the school, she led an initiative to film traffic safety videos for the students on how to safely enter school and use the crosswalk. Stone also conducts weekend JPO training on team building and safety with students from her campus and other Maui schools, including Kahului, Pomaikai, Waihee, and Maui Waena Elementary well as Saint Anthony's. Additionally, she has worked with DTRIC Insurance, the Maui Police Department, and Baldwin High School on various safety programs.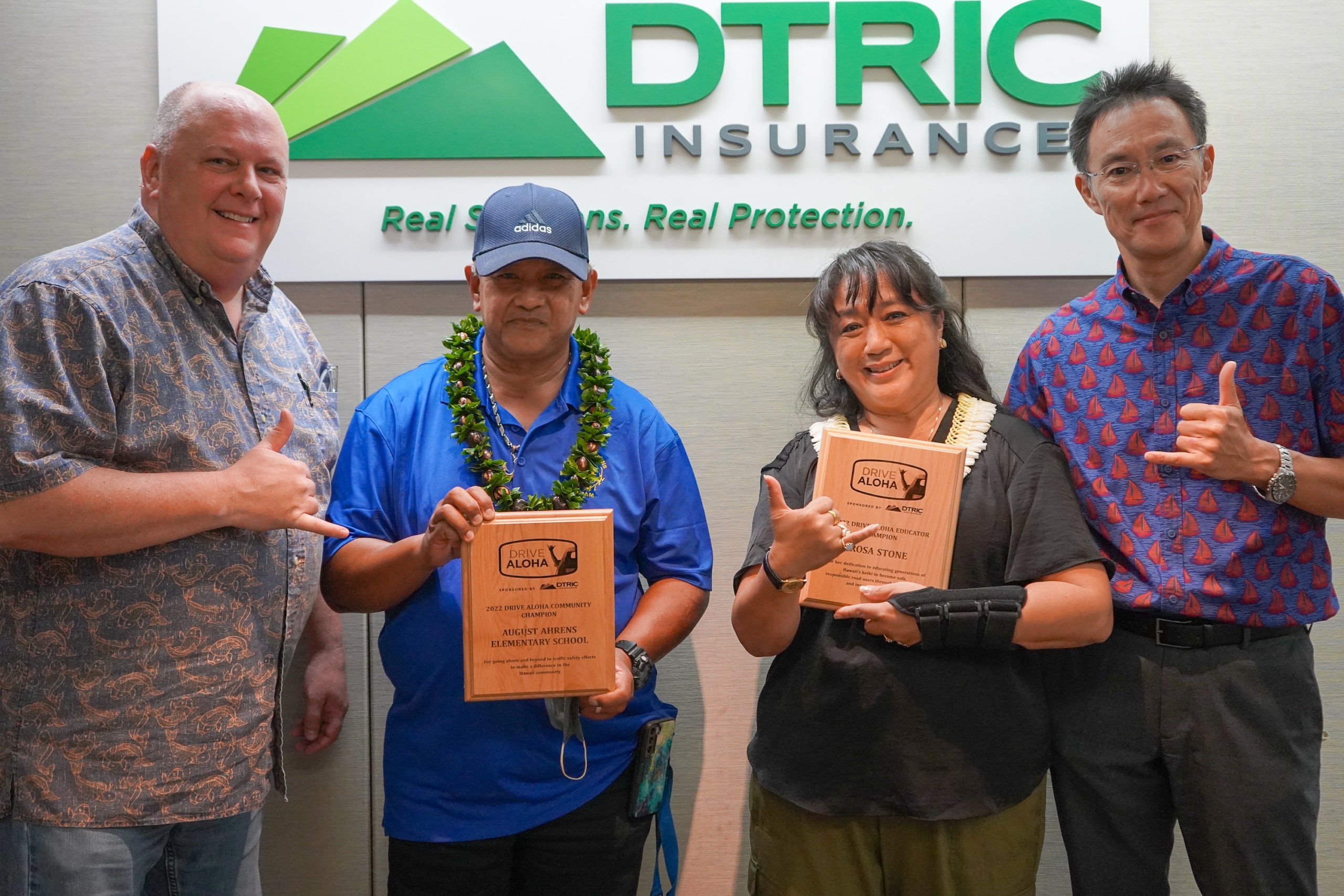 For going above and beyond to create safer and friendlier roads in Hawaii, DTRIC Executive Vice President/Chief Underwriting Officer Dennis Rae (left) and President and CEO Takuya 'Taku' Mitsueda (right) presented the second annual Drive Aloha Champion awards to Community Champion August Ahrens Elementary School, represented by School Safety Advisor Byron Montibon and Educator Champion Rosa Stone of Lihikai Elementary School on Maui
When you pledge to practice responsible, courteous, and safe habits on the road, you become a Drive Aloha Ambassador. We'll send you a Drive Aloha window decal to proudly display your commitment to promote traffic safety!