DTRIC Insurance Celebrates August As "Drive Aloha" Month To Encourage Safe And Responsible Driving
2nd Annual Drive Aloha Champion Nominations Also Being Accepted
HONOLULU (August 1, 2022) – August has been proclaimed Drive Aloha Month in the State of Hawaii by Governor Ige, and DTRIC Insurance is asking motorists to drive with care and courtesy as students head back to school.
"Traffic fatalities across our islands rose considerably in 2021 over 2020, so we all need to be mindful to share roadways and practice the aloha spirit, especially as our keiki head back to the classrooms for the new school year," said Dennis Rae, executive vice president of DTRIC Insurance. "While the Drive Aloha safety message is a timely reminder with increased vehicular and pedestrian traffic with the back-to-school season, we want everyone to exercise good judgement all year long. Whether you're a driver, passenger, cyclist, pedestrian or skater, we all have a part to play in building a community of safe and friendly road-users."
According to the Hawaii State Department of Transportation, there were 94 traffic-related deaths on Hawaii roads in 2021, including 25 pedestrians and 37 bicyclists or moped/motorized scooter riders. Those figures were up from the 85 fatalities in 2020.
As part of Drive Aloha Month, DTRIC Insurance will again recognize individuals, businesses, and organizations for their efforts to promote safe, responsible, and courteous driving to create safer roads across our islands through the 2nd annual Drive Aloha Champion program.
Drive Aloha Champions will be awarded in the following categories:
Educator Champion – A person or organization that has gone above and beyond to teach road users how to travel safely.
Student Champion – An elementary, middle, or high school student engaged in a traffic safety program.
Community Champion – A community leader or organization that has gone above and beyond in traffic safety efforts to make a difference in their community.
Corporate Champion – A company or business that has demonstrated dedication to traffic safety in their workplace and community through their efforts to make our roadways safer.
For full details or to submit an online nomination, click here.
The Drive Aloha Champions will be announced in September, and will be recognized by DTRIC Insurance and awarded cash prizes of $500 in each contest category.
DTRIC Insurance launched the Drive Aloha initiative in August 2016 to educate and encourage drivers, pedestrians, and cyclists to practice safe and courteous behavior and create safer, friendlier roadways across our islands. Drive Aloha encourages people to take the safety pledge to be courteous drivers, embrace positive behaviors and practice the ALOHA spirit to make the road safer and friendlier for everyone. Drivers, pedestrians, cyclists, and all commuters are urged to take the Drive Aloha pledge here to demonstrate their commitment to practicing safer and more courteous road habits.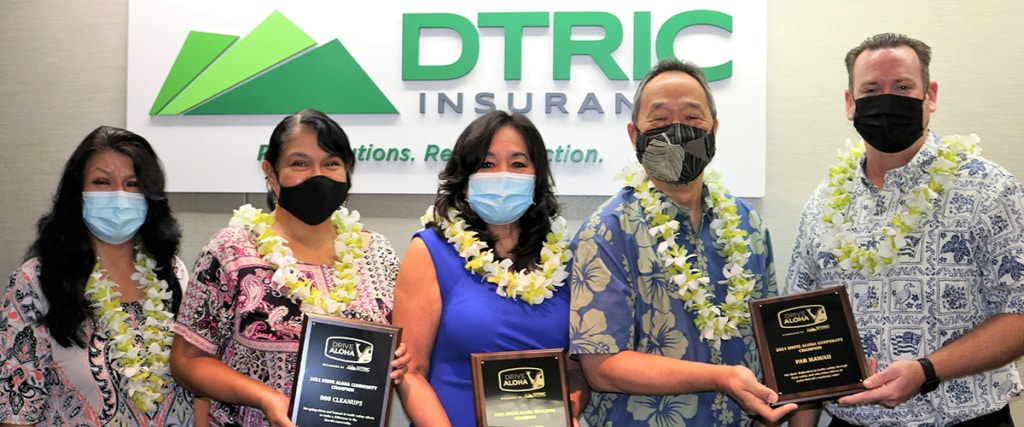 About DTRIC Insurance Company, Limited
Established in 1992, DTRIC Insurance Company, Limited offers personal lines of insurance, including auto, homeowners, renters, and umbrella policies. It also provides a wide range of commercial lines of insurance, including general liability, property, and workers' compensation. DTRIC is a member of MS&AD Insurance Group, Japan's largest insurance holding company and the fifth largest property and casualty insurance group in the world. Learn more at www.dtric.com.
MEDIA CONTACTS:
Becker Communications, Inc.
Jocelyn Collado – (808) 392-5737, cell
Scott Ishikawa – (808) 227-2350, cell