DTRIC Insurance Teams Up With Farrington High and Kalakaua Middle Schools During Distracted Driving Awareness Month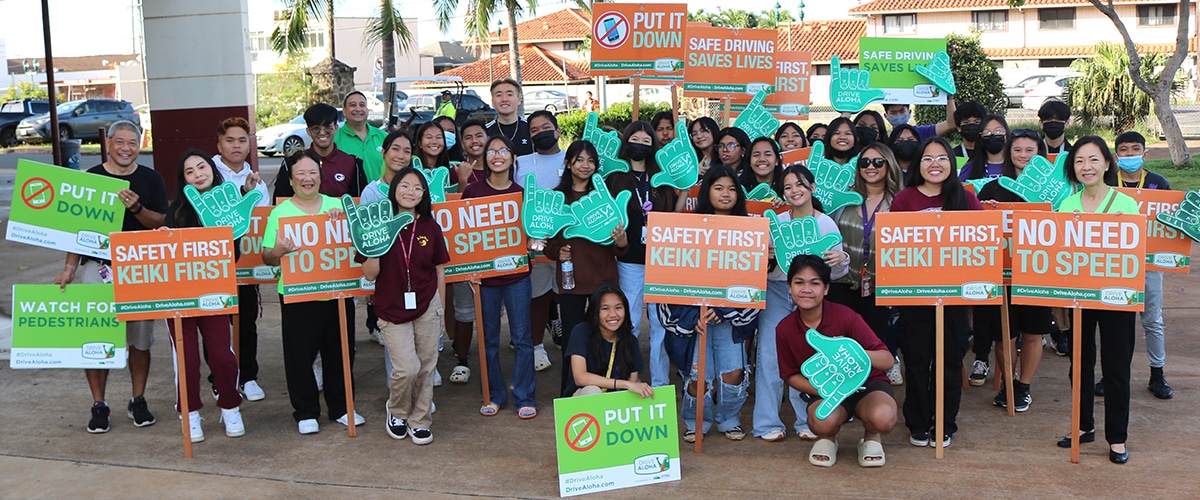 HONOLULU (April 17, 2023) – Mahalo to the 50 Farrington High School and Kalakaua Middle school students and staff who sign-waved with DTRIC Insurance this morning! The students encouraged motorists to drive safely around schools and neighborhoods as part of Distracted Driving Awareness Month in April.
Student and adult sign-wavers reminded motorists along busy King Street to "Drive Aloha" by following the posted speed limit in school zones and watching for pedestrians near the Farrington high school and Kalakaua Middle school campuses in Kalihi.
Traffic fatalities in Hawai'i have risen considerably over the last few years. By the end of 2022, there had been 117 traffic deaths along our roadways, higher than the annual totals for the previous three years of 2021, 2020 and 2019, according to statistics from the State Department of Transportation.
In 2022, there were increases in traffic fatalities across nearly all categories — with 49 involving motor vehicle occupants, 33 involving motorcyclists and moped riders, 28 involving pedestrians and seven involving bicyclists, based on DOT figures.
About DTRIC Insurance Company, Limited
Established in 1992, DTRIC Insurance Company, Limited, offers personal lines of insurance including auto, homeowners, renters, and umbrella policies. It also provides a wide range of commercial lines of insurance, including general liability, property, and workers' compensation. DTRIC is a member of MS&AD Insurance Group, Japan's largest insurance holding company and the fifth largest property and casualty insurance group in the world. Learn more at www.dtric.com
MEDIA CONTACTS:
Wenli Lin
DTRIC Insurance
(808) 951-1815
Jocelyn Collado
Scott Ishikawa
Becker Communications, Inc.
(808) 533-4165