MADD Hawaii Kicks Off Tie One On for Safety Annual Red Ribbon Campaign on Thursday, November 16 in Kakaako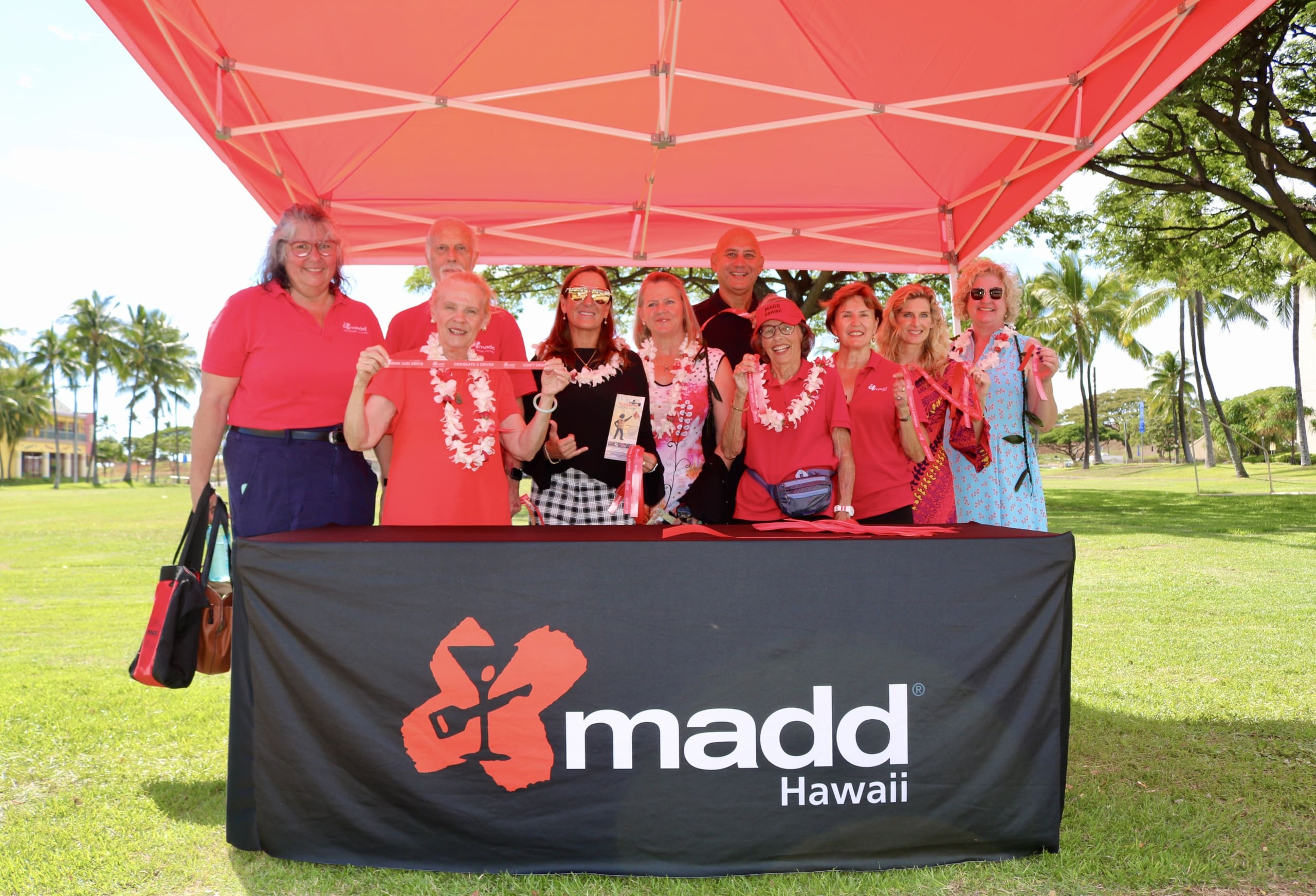 HONOLULU, HI (November 10, 2023) – Mothers Against Drunk Driving® (MADD) Hawaii and co-sponsors Par Hawaii (Hele gas stations) and DTRIC Insurance will kick off its annual Tie One On for Safety red ribbon campaign on Thursday, November 16, 2023, to remind motorists to drive safely this holiday season or plan ahead for a designated driver. MADD encourages everyone to show their commitment in keeping themselves and our communities safe by displaying a MADD Tie One On for Safety red ribbon, window cling or magnetic decal on their vehicles and by always choosing a non-drinking, unimpaired driver.
A press conference will kick off the safety campaign at noon Thursday, November 16 along Ilalo Street between Cooke Street and Ohe Street at Kaka'ako Park field, across from the University of Hawaii John A. Burns School of Medicine.
Starting in 1986, the Tie One On for Safety campaign is MADD's longest-running public awareness project. The annual holiday campaign encourages drivers across Hawaii and our nation to display MADD red ribbons on their vehicles as a promise to plan and call an Uber, Lyft or Safe Ride Hawaii; use public transportation; or choose a non-drinking, unimpaired friend, or family member to ensure everyone gets home safe.
"December is Impaired Driving Prevention Month – yet shockingly, drunk driving crashes surge as much as 40% during the holidays. Sadly, in the US, 1,247 people lost their lives in alcohol-related crashes between Thanksgiving and New Year's Eve in 2021. We do not want any of our ohana to lose a family member due to impaired driving. We encourage everyone to pick up a ribbon and take the pledge to not drink and drive. We all have a part in making sure all roadway users make it home safely." says Alice Liu, Program Director at MADD Hawaii.
According to preliminary statistics from the Hawaii Department of Transportation, the number of traffic-related fatalities in Hawaii is 83 as of November 8. On average, 30-35 percent of traffic fatalities are a result of impaired driving crashes.
The red ribbons also signify support for law enforcement officers. MADD thanks all law enforcement who will be working harder than ever this holiday season to protect the public from drunk driving through enforcement efforts such as the Drive Sober or Get Pulled Over campaign.
(Click here to watch a message from Honolulu City & County Mayor Rick Blangiardi.)
Other community partners have joined in to support MADD's annual campaign, including Par Hawaii, DTRIC Insurance, and Oahu's traffic safety leaders. Speakers at the kickoff event joining Wanya Ogata, MADD Hawaii Advisory Board Chair, include:
State and County Leaders:
Hawaii State Department of Transportation
Assistant Chief Keith Horikawa, Honolulu Police Department
Assistant Chief Craig Uchimura, Honolulu Fire Department
Director Jim Ireland, M.D., Honolulu Emergency Services Department
Chief Deputy Lanikoa Dobrowolsky, Hawaii Department of Public Safety, Sheriff's Division
Lyle Amine, District Captain – Recreational Boating Safety Auxiliarist, United States Coast Guard
Sponsors and a victim of an impaired driving crash:
John Peyton, vice president – Hawaii retail, Par Hawaii, Hele gas stations
Mike Mishima, vice president/chief claims officer, DTRIC Insurance
Brittany Cass, victim of an impaired driving crash
"It is everyone's kuleana to drive responsibly or find a non-drinking driver to make sure the holidays are a time of celebration," said John Peyton, vice president – Hawaii retail for Par Hawaii. "Our Hele station team is glad to once again provide a convenient place for motorists to get their MADD ribbon or decal for their vehicles to show their commitment to keeping the holidays merry and bright!"
"DTRIC Insurance is honored to partner with MADD Hawaii on its annual Tie One On for Safety campaign to help keep our community safe," said DTRIC Insurance President and CEO Takuya Mitsueda. "During this joyous time of the year with family and friends, let's make smart, sensible choices while behind the wheel this holiday season."
MADD has developed a resource Tips for Hosting a Safe Holiday Gathering and DTRIC Insurance has full recipes of Mocktail drinks available online here.
MADD's Tie One On for Safety red ribbons are available statewide at the following locations:
Hele gas stations
Zippy's restaurants
Foodland and Sack and Save stores
NAPA Auto Parts stores
Servco Auto Dealerships (Toyota, Lexus, Subaru)
County Mayors' offices
County Prosecutors offices
MADD is also asking the public to take the MADD Red Ribbon Challenge and post their commitment on social media to never drink and drive. Be creative with where you Tie One On for Safety and post a photo or video of your MADD Red Ribbon on social media with #RedRibbon808. Don't forget to tag MADD Hawaii on Facebook, and Instagram. Visit www.madd.org/hawaii/-red-ribbon-challenge-808/ for more information about the challenge.
About MADD Hawaii
MADD's (Mothers Against Drunk Driving) mission is to end drunk driving, help fight drugged driving, support the victims of these violent crimes, and prevent underage drinking. The Hawaii State Office is located in downtown Honolulu. Since being chartered 39 years ago MADD Hawaii and its highway safety partners have reduced alcohol-related fatalities statewide by over 50 percent and promoted designating a non-drinking driver.
Nationally, MADD has helped to save more than 400,000 lives and provided supportive services to nearly one million drunk and drugged driving victims and survivors at no charge through local victim advocates and the 24-Hour Victim Help Line 1-877-MADD-HELP.