How We Respond
To protect our customers, our employees and their families, and to prevent the further spread of COVID-19 in the community, the DTRIC Insurance office has been closed to the public but our business operation continues as usual.
Insurance is classified as an "essential business" in the Honolulu mayor's "stay at home/work from home" emergency order issued on March 22, 2020, and our employees are not required to stay at home/work from home to maintain the essential business. However, to support the spirit of the emergency order, many of our employees will be working from home. This means that you can continue to do business with DTRIC via email and phone.
Agency Resources
You can continue to work with all of our team members via email or by phone. All contact information including phone numbers, email addresses, and the web address remain the same. The agent online quoting portal remains operational as usual.
To facilitate communications during this time, we have created a directory of departments that you work with, including Underwriting, Claims, and Accounting. To view the directory, please enter the password provided to you via DTRIC AgentLine Bulletin.
Customer Service
Revised Call Center Operating Hours
Monday – Friday: 8 am – 12 pm, 1 pm – 4:30 pm
Saturday and Sunday: closed
To contact a DTRIC customer service representative, please call 808-944-5400, neighbor islands toll-free at 1-888-944-5474, or email

To get an insurance quote, please call (808) 923-8742, neighbor islands toll-free at 1-877-923-8742.
Remote Customer Service Options
At this time, we strongly recommend that DTRIC Insurance customers use online and alternative options to manage your policy. For your convenience, DTRIC offers the following options for payments, managing your policy, and communicating with representatives: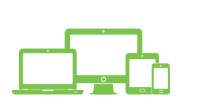 Online

Telephone
Contact DTRIC to assist with policy changes and payments with a credit card:
Call DTRIC Customer ServiceLine

Oahu: (808) 944-5400
Neighbor Islands toll-free at 1-888-944-5474

Other
Mail a check to:
DTRIC Insurance
P.O. Box 30920
Honolulu, HI 96820-0920
Pay at a First Hawaiian Bank branch (please check www.fhb.com for potential branch closures due to COVID-19.)
Be sure to include your payment stub when you make the payment.

Claims
Effective immediately, all claims settlement payments will be sent to you via U.S. postal mail.
You may continue to report your claims online.
You may also report a claim by phone using our 24-hour Claims Hotline at 1-888-443-8742.
Working from Home Tips
Home based offices can be hazardous. We compiled a list of the physical and technological hazards you should know about and avoid when working from home. Click on the icons below to learn more.
Online COVID-19 Course
Now that COVID-19 has been declared a global pandemic and cases have surfaced in our state, DTRIC Insurance urges everyone to be prepared. To learn more about this fast spreading threat, take DTRIC's online course, which includes:
It only takes a few minutes to go through the lessons. We encourage you to share the link with your family, friends and colleagues, so they can also be well-informed and well-prepared. Information and awareness are the best preparation and together, we can protect our community.